New Swift Sprite Major 4 SB
2021 Swift Sprite Major 4 SB
From £20,445 (£20,990 OTR*)
* includes Dealership Delivery Charge (£545)
The award winning, best selling Sprite Major 4 SB offers a transverse island bed layout with full-width rear washroom offers great flexibility for those wanting an open, comfortable means of touring. This 4-berth with it's light-weight bodyshell utilising the latest SMART+ construction techniques from Swift offers the comfort a fixed, island-bed layout brings without the requirement of a large tow vehicle. For the 2018 season the range was redesigned from front to back, GRP panels front and rear took their cues from the higher specification caravans in the Swift range and added to the dynamic appeal of Sprite. Along with the external updates, including exclusive design rear LED light clusters, the interior design also got a significant make over and for this season, the improvements continue.
The white upper locker veneers of previous years are now 'Aralie Sen' to match the rest of the wood veneer, with only the kitchen upper lockers remaining white to highlight this important area of the caravan. This is highlighted with a multitude of LED lighting in the form of strips above the upper lockers and handy spot-lights below. Additional storage is available upper lockers including those added either side of the now standard Panoramic Sunroof last year. At the front, you'll now find USB sockets for all your devices power needs and in the kitchen, the addition of a secondary 230v socket as well as easier access to both sockets above the 2018 season's newly introduced sweeping shelf, which keeps smaller items away from the main food prep' area.
Last year saw fresh exterior decals and on the inside, the new 'Langholme' upholstery scheme and stainless steel sink and all of these continue into 2021.
The open plan nature of the Sprite Major 4 SB has always proven to be a hit with couples and families alike. The washroom to the rear providing ample space when required with the practical lined shower cubicle and an electric flush Thetford toilet. In the bedroom itself, you'll find the Duvalay mattress fixed bed, which can be extended during night-time use to 6 foot 1 in length and has plenty of storage underneath - outside access to the space gained via a handy external door. The bedroom itself has twin wardrobes and plenty of storage besides, including a vanity mirrored cupboard. The front lounge and kitchen area is well specified as standard and better still with the optional 'Diamond Pack', which adds a microwave to the well equipped kitchen and boasts a Dometic 3-way fridge with automatic power source selection. At the seating area, you'll find dual USB sockets in the new for 2019 socket pod, which has a handy cubby for propping up your smartphone while it's charging via the socket. Above the entrance door, you'll find the Truma CP+ heating controls as well as the new Swift Command touch screen incorporating an FM and DAB radio receiver.
And finally, for years the 'Diamond Pack' had been an option, which included alloy wheels, scatter cushions, microwave, etc - this is now standard throughout the Sprite range for 2021!
Below are specific figures for the 2020 Swift Sprite Major 4 SB...
| | |
| --- | --- |
| Berths | 4 |
| Number of Axles | 1 |
| Internal Length (at bed box height) | 5.83m/19'2" |
| Overall Width* | 2.25m/7'5" |
| Overall Height (inc. TV Aerial)* | 2.59m/8'6" |
| Maximum Internal Headroom | 1.95m/6'5" |
| Overall Length* | 7.54m/24'9" |
| Awning A/A Dimension | 10.08m/33'1" |
| Mass In Running Order (inc. tolerance) | 1241kg/24.4cwt |
| Maximum Technical Permissible Laden Mass | 1442kg/28.4cwt |
| Total Used Payload | 156kg/3.1cwt |
| Personal Effects Payload | 156kg/3.1cwt |
| Options | 0.0kg/0.0cwt |
| Tyre Size | 185 R14C 102Q |
| Thermal Insulation Grade | Three |
| Front Double Bed | 202cm x 159cm/6'8" x 5'3" |
| Or Nearside Single | 159cm x 72cm/5'3" x 2'4" |
| And Front Offside Single | 159cm x 72cm/5'3" x 2'4" |
| Rear Double | 185cm x 133cm/6'1" x 4'4" |
Optional Extras
Factory Fit
The following prices are for optional extras fitted at the time of manufacture of the caravan (subject to availability). Optional weights are included in the published MTPLM.
| | |
| --- | --- |
| AL-KO ATC trailer control (fitted at point of manufacture) | £349.00 |
| SwiftShield upholstery scheme | £395.00 |
Dealer Fit
Please note: These options when fitted will reduce the payload that can be carried in your caravan. If a higher payload is required, then the MTPLM can be increased on certain models. Please consult your dealer for further details.
| | |
| --- | --- |
| Alarm | £260.00 |
| AL-KO Secure wheel lock | £265.00 |
| Wrap around cushion and backrest | £175.00 |
| Wrap around cushion and backrest (SwiftShield) | £295.00 |
| Swift Command Tracker by Sargent annual subsciption | £95.00 |
| Solar Panel 80 Watt | £275.00 |
| Cycle rack (Thule Elite G2 two cycle) | £315.00 |
| Roof Mounted Air Conditioning Unit (model dependent) | £POA** |
| Yuasa YBX Active Leisure & Marine L36-100 - NCC Class C (model dependent) | RRP £174.63** |
| Yuasa YBX Active Leisure & Marine L36-EFB - NCC Class B (model dependent) | RRP £209.31** |
| Yuasa YBX Active Leisure & Marine L36-AGM - NCC Class A (model dependent) | RRP £296.28** |
A full copy of the 2021 Swift Sprite brochure can be found by clicking below...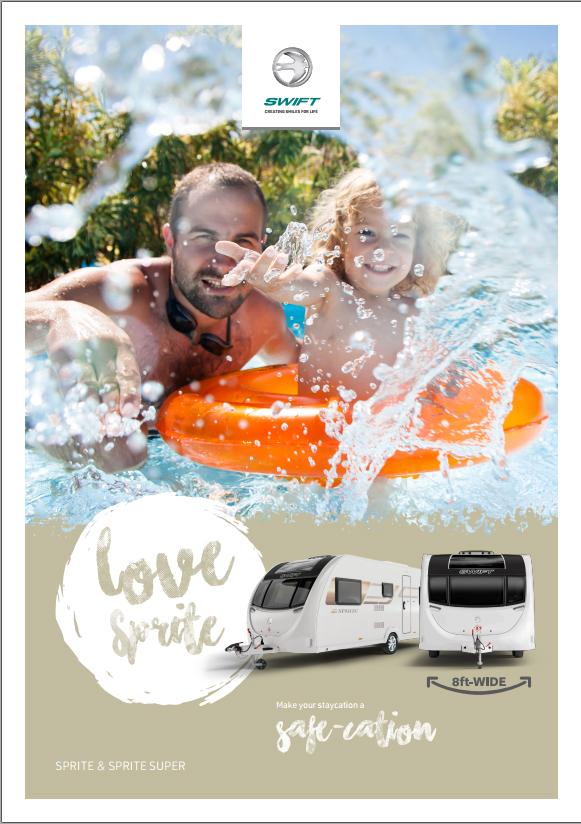 * The dimensions given are approximate due to slight variations in suspension ride heights, loading conditions and tyre pressures
** Excludes dealer installation charge
Price Notes
Recommended retail prices for 2021 models. Prices include VAT @ 20%. Effective from 1st October 2020.
Enquire about this caravan